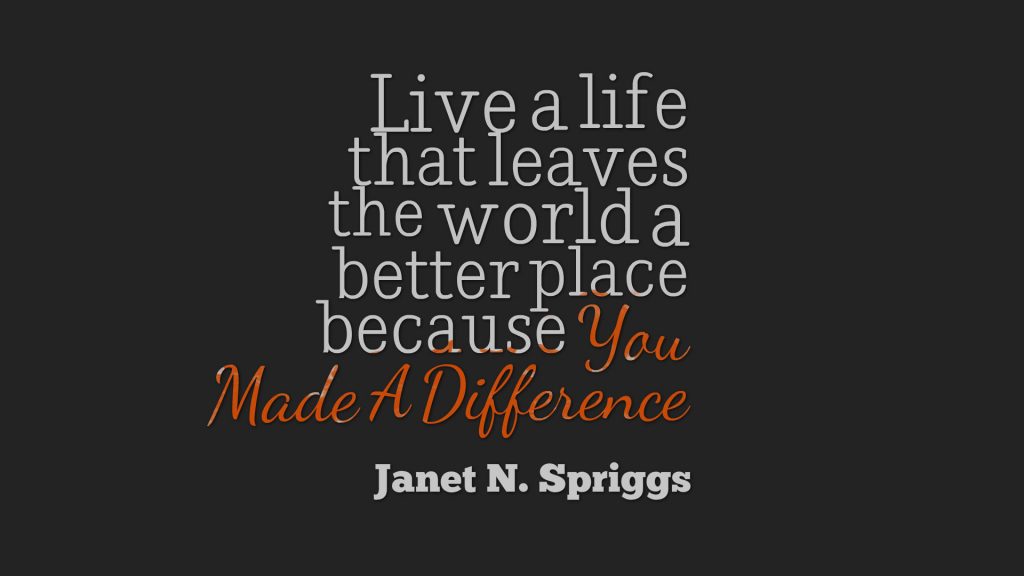 Servant leadership is the foundational tenet of my leadership philosophy and credo: Lead to Make a Difference. The term "servant leader" was coined by Robert Greenleaf in 1970 in an essay titled, The Servant as Leader.
"The servant-leader is servant first… It begins with the natural feeling that one wants to serve, to serve first. Then conscious choice brings one to aspire to lead. That person is sharply different from one who is leader first . . . A servant-leader focuses primarily on the growth and well-being of people and the communities to which they belong. While traditional leadership generally involves the accumulation and exercise of power by one at the "top of the pyramid," servant leadership is different. The servant-leader shares power, puts the needs of others first and helps people develop and perform as highly as possible."

Robert Greenleaf, The Servant As Leader, 1970
Today, Monday, January 21, 2019 is a national holiday in our country — a day that we set aside each year as a nation to celebrate an iconic servant leader, Dr. Martin Luther King, Jr. Dr. King was not interested in accumulating power. His goal was service. Dr. King strived to ensure that other people's highest priority needs were being served by ending oppression, and creating a society within our nation where every man, woman and child are equal. He sought to bring hope and healing to America and his call to action continues to inspire, motivate, and serve as a call to action today, over 50 years after his death.
Dr. King believed that we rise by lifting others and he worked steadfastly to lift up the least privileged in society, striving to ensure they would benefit and not be further deprived. His dream was to create a better world and to right the wrongs of injustice, believing "the time is always right to do what is right."
As we honor Dr. King's legacy of service and leadership today, I spent time reflecting on the lessons of his legacy for leaders — focusing on the things we can learn from Dr. King about leading with influence and yielding impact. Here are my reflections on six lessons that Dr. King's legacy has taught me in my journey to be a servant leader and moreover, to Lead to Make a Difference.
Leaders Who Make a Difference Have a Dream. Author and motivational speaker Simon Sinek says your "why is the purpose, cause or belief that drives everyone of us." Great leaders know their "why" — the purpose and reason they do what they do — their dream. The dream propels leaders to want to understand how they can make a difference in the world and pushes them to take advantage of every opportunity they have to make a difference by pursuing the dream and creating a movement of people to help them achieve their dream through their leadership. A leader's dream creates the foundation for how they can make a difference in the world and propels them to inspire others to share their dream.
Leaders Who Make a Difference Share Their Dream. If you have a dream, share it — a vision that is not communicated can never be reached. The ability to inspire others and to connect their heads and their hearts to your dream is what great leaders like Dr. King do. Dr. King did not just communicate information, he used stories and metaphors that spoke to the listener's logical consciousness while also igniting passion and a call to action by capturing their hearts. By sharing their dream, leaders inspire others to believe in their purpose and to take action.
Leaders Who Make a Difference Take Action. Great leaders have big dreams, passionately communicate their dreams, and they are not afraid to take bold actions in pursuit of achieving their dreams. A vision without action is wasted energy. However, leaders must ensure that their actions back their vision — in other words, they must do what they say and say what they do. Leaders who make a difference are change agents whose word and deeds match. Change agents know that while words can be very powerful, words alone do not make the difference that creates radical transformation. Dr. King used his eloquent, inspirational, and impactful words to inspire a call to action, but instead of leading from above and expecting other to do all of the work, Dr. King walked alongside his followers, and he was never afraid to fearlessly challenge the status quo when it needed to be challenged.
Leaders Who Make a Difference Fearlessly Challenge the Status Quo When it Needs to be Challenged. Dr. King taught us that "injustice anywhere is a threat to justice everywhere." You can't accept that just because things are a certain way, they are the right way. Leaders who lead to make a difference are not afraid to challenge the status quo when the status quo needs to be challenged. It is important to lead change when change is necessary to correct an unacceptable existing state of affairs. Leaders like Dr. King understand the risks involved in taking such bold actions, but they boldly accept the risk and boldly create urgency while doing what is right for the right reasons.
Leaders Who Make a Difference Create Urgency. In his I Have a Dream speech, Dr. King said, "Now is the time to make real the promises of democracy. Now is the time to rise from the dark and desolate valley of segregation to the sunlit path of racial justice. Now is the time to lift our nation from the quicksands of racial injustice to the solid rock of brotherhood. Now is the time to make justice a reality for all of God's children. It would be fatal for the nation to overlook the urgency of the moment." Leaders like Dr. King don't just inspire others to act; they create movements. To do that, they seize every moment and every opportunity afforded them to inspire and incite action because the why that inspired the movement is important and momentum is a critical factor in achieving the dream. Leaders who lead to make a difference like Dr. King are like mountain climbers who work urgently and diligently to achieve their dream of making it to the top of the mountain — they move forward with an urgent need to reach their dream and they have the character, conviction and courage to persevere for as long as it takes to reach that mountaintop.
Leaders Who Make a Difference Have the Character, Conviction, and Courage to Persevere. When leaders face obstacles and barriers, they can find another important lesson in Dr. King's legacy: Have the courage to persevere, never wavering from your wholehearted commitment to achieve your mission and fulfill your vision. Leaders who know their purpose and have a dream like Dr. King, are steadfastly committed to seeing their dream through, no matter the consequences. They hold firm in their their passion for their purpose and they lead with character, conviction and courage. As eloquently stated by Bill George, a senior fellow at Harvard Business School during an interview about the legacy and leadership lessons of Dr King, "In a very real sense, the character you demonstrate in achieving your purpose is the legacy you leave to those leaders coming along behind you."
Dr. King's legacy is filled with lessons like these that demonstrate the qualities and characteristics of servant leadership — The Servant as Leader philosophy. Each time I reflect on his life, his dream, and his legacy he left behind, I find a wealth of insight into what it truly means to Lead to Make a Difference.
In honor of Dr. King, I will close with one of my favorite quotes from this great servant leader's treasure chest of wisdom:
"Life's most persistent and urgent question is, 'What are you doing for others?'"

Dr. Martin Luther King, Jr. Servant Leader