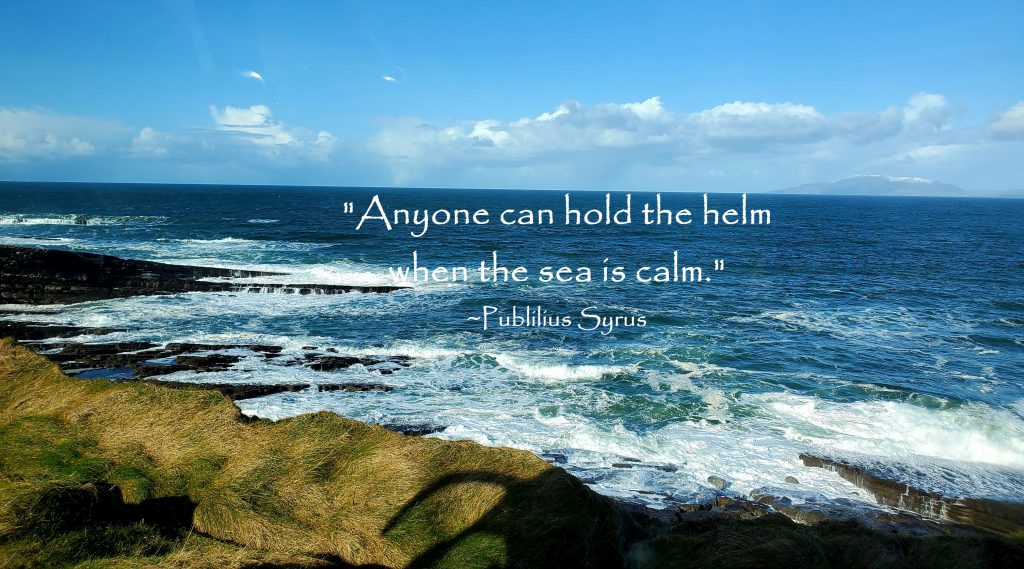 I often use the phrase "imagine without boundaries." I like this idea better than "think outside the box" because I believe it inspires and motivates teams to open their minds and capture the infinite possibilities that abound for shaping the future and achieving their purpose. However, a year ago as I penned my first President's Thanksgiving message to the students, faculty and staff of Forsyth Tech, I could never have imagined (within or without boundaries!), what lie ahead for all of us in the new year. At the time, I believed the year to come was filled with infinite possibilities and endless opportunities for our College to elevate and embrace the important and edifying work underway at our institution to build a culture of belonging. The new culture we were building together would ground and guide us as we worked together to achieve our shared vision of being a catalyst for equitable economic mobility, empowering lives and transforming communities.
"The best plans of mice and men often go awry." Perhaps this is an appropriate descriptor for 2020 – a year that will most certainly find a place of prominence as a defining moment within our world's history.  This year will re-frame our normal and alter our future in ways we have yet to fully realize, and 2020 will most assuredly leave its indelible imprint on all of us and become a defining moment in our collective life's stories. 
The challenges and disruptions 2020 has prescribed lend themselves easily to a comparison of a storm. Many times, this year, I personally felt anxious and found myself comparing my uneasiness to the apprehension I experienced each time a hurricane approached when I lived at the coast in Carteret County, NC. I remember the exhausting storm preparations we completed before each landfall — stocking up on food, filling the bathtubs with water, boarding our windows — securing our property to keep us as safe as possible. Once that work was complete, my family and I would hunker down together, inside our then windowless home, riding out the storm in the darkness, listening to the howling winds and the pounding sideways rain, as the storm swirled furiously, out of our control, all around us. When you are amid a hurricane, you are at the mercy of the storm. You cannot control it and you cannot make it stop. It is a frightening experience, and often all you can do is bow your head, say a prayer, and weather the storm until it runs out of rain.
I use my experience of riding out a hurricane as an analogy for 2020. So much of what we have endured this year has been outside our control and we have had no choice but to hunker down together and hold tightly to our families, friends, and each other as we weather the storm until it runs out of rain. Unfortunately, the 2020 storm has not yet run out of rain. COVID-19 continues to pound away at us, we continue to fight the injustices of prejudice, bigotry, intolerance, and discrimination, our country remains starkly divided politically, and we are in the middle of a global recession.
As we prepare for our annual Thanksgiving holiday, a day specifically set aside as a time for Americans to celebrate our blessings and offer thanks for a bountiful harvest, it may seem like 2020 has robbed us of much to be grateful for. This year, for many, the holiday will look very different. Weathering the storm of 2020 has taken its toll on us. We have all been riding this storm out together, but our experiences have not all been the same. Many among us have been battered harder than others, and we are all tired and struggling to remain hopeful.
Yes, this Thanksgiving will be different, as the storms of 2020 are not quite ready to let go their hold on us, and it may seem like we have less to be grateful for than in years past. Yet, I suggest that perhaps this season of gratitude and this time for celebrating our blessings is even more poignant and important. President Abraham Lincoln officially declared the holiday that created our national Thanksgiving Day in 1863 in midst of the Civil War. In his proclamation, President Lincoln entreated all Americans to ask God to "commend to his tender care all those who have become widows, orphans, mourners or suffers in the lamentable civil strife … [to] heal the wounds of the nation."
Lincoln's poetic words are especially relevant for Thanksgiving 2020. These storms will end. I remain optimistic and hopeful for a better 2021. With the new year, it is my fervent wish, that the turbulent storms of 2020 will finally run out of rain, and we will be able to open our windows wide, survey the damage with clear eyes and open minds and hearts, and forge ahead together with a renewed sense of clarity and purpose.
I recently read an article about gratitude that posits it is much more than merely the act of saying thank you or being grateful. There is much evidence that strongly and consistently associates gratitude with improved health, stronger relationships, better ability to deal with adversity, and greater happiness. Perhaps this Thanksgiving more than ever, we need to be especially grateful.
A Psychology Professor at Forsyth Tech, Kathryn Alves-Labore, recently shared this quote with me:
"This experience we did not choose, and which we would have done anything to avoid, has made us different, has made us better."

Clara Claiborne Park
We are stronger than the storm.
At Forsyth Tech I have witnessed the extraordinary resilience and remarkable courage of our students, staff, and faculty. Our students kept moving forward even as many of them lost your jobs, had to homeschool their children, and faced relentless and often, unimaginable challenges and disruption. Our faculty and staff accomplished the seemingly impossible, creating a virtual environment to sustain teaching and learning excellence, and provide exceptional support services for our students within a two-week timeframe, and they did it with admirable and steadfast resolve to ensure our students' transition to their new normal was successful. We loved and served our students with excellence, even while dealing with the personal effects of the storm in our own lives.
I remain hopefully optimistic that the storms of 2020, just like all the other storms we will face in our lives, will eventually run out of rain. The challenges and disruptions that we did not choose and we would have done anything to avoid, have made us different, but they have also made us better and stronger.
As we leave for our Thanksgiving holiday this week, as we approach the end of the storm that has been 2020, and as the hope and expectation of 2021 dawns, my heart is filled with gratitude!
When I give thanks for all my blessings on Thanksgiving Day, I will offer a special word of appreciation, thankfulness, and gratefulness for every member of my College team. Their courage, grace, and resilience inspire me daily. Leadership is a privilege. I am humbled, honored, and exceedingly grateful for the privilege of leading this esteemed institution of higher learning and most importantly, the people who are Forsyth Tech.
So for this week, may we all be blessed with hearts filled with gratitude, and may we once again imagine without boundaries the infinite possibilities and endless opportunities that lie ahead as we live our purpose with passion every day, and lead to make a difference!
With gratitude and love,